We have found this pet's record
We found a pet record for this tag. Below is all of the information that the Pet Owner has currently made available online to those who look up the Tag ID. If you have spotted this pet or currently have this pet in your possession, please do one of the following:
Contact the pet owner directly if their contact information is provided below.
File a Found Pet Report by clicking the blue button below.
You may contact our 24/7 Hotline any time at 1-877-239-6072
Tito Sandoval is lost!
Lost Date
June 21st, 9:30pm
Wearing collar?
Yes
Wearing DocuPet tag?
No
Last seen at
24th Street & Meadowview Road, Sacramento, CA, USA
I have been out of town from the time of June 1st through June 22nd . This is a long time for my pup and he has been in the care of a family member . His been constantly getting out and unfortunately he successfully did the night before I arrived back to the states. I believe he is looking for me and went looking ! Please help me find him !
Map
Tito Sandoval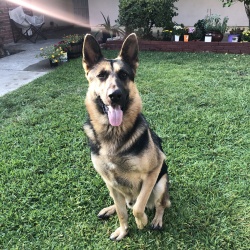 | | |
| --- | --- |
| Tag Code | N2BIJRNV (Expired) |
| Breed | Germ Shepherd |
| Species | Dog |
Basic Information
| | |
| --- | --- |
| Color | Black |
| Gender | Male |
| Spayed/Neutered | Yes |
| Pet Date of Birth | 05/12/2017 |
Owner Information
Owner Name
Listzy Sandaval
Phone Number
(916) 868-8428
Work Phone Number
(916) 389-5597
Home Address
2210 Amanda Way
Sacramento CA 95822
Medical Information
| | |
| --- | --- |
| Veterinarian | ELKHORN-WALERGA ANIMAL HOSPITAL |